STUDENT HOMESTAY IMMERSION GERMANY
2023/2024 – SHORT TERM
HIGH SCHOOL HOMESTAY PROGRAMS
HOMESTAY IMMERSION GERMANY– 4 & 8 WEEK
Location: Germany
Max participants per program: 30
Check out the cost of our Homestay Immersion in Germany
Length : 4 & 8 Week
Type: High School Homestay
Level: Intensive/ Non-Academic

4 WEEK PROGRAM
Check out the cost of our Homestay Immersion in Germany
Program Dates:
flexible
Application & Payment Deadline:
5 months before departure
8 WEEK PROGRAM
Check out the cost of our Homestay Immersion in Germany
Program Dates:
flexible
Application & Payment Deadline:
5 months before departure
High School Homestay Immersion Germany
During the German school year, students from around Australia head to Europe to experience the fun of life living with a host family while improving their German language skills. Students also participate in school with host brothers & sisters and enjoy for example the traditions and festivity of Christmas and New Year's Eve.
Students will see their German language skills improve quickly and efficiently due to the constant immersion in the German language.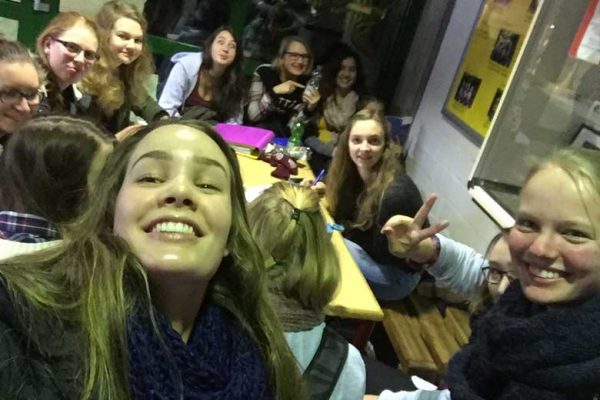 Homestay and High School Matching
Our Homestay and School integration program in Germany offers a unique opportunity to experience the German way of life by placing a student with a local host family while attending a local high school.
Students accept to be placed anywhere in Germany depending on where the best match is found. Host families can be in rural areas or in middle or large size cities which are safe and have excellent public transportation.
Our priority is to select friendly and suitable host families who are happy to help students in their educational experience
The placement is made in matching a student with a family according to various criteria including their common interests, hobbies and activities.
The student will be given the chance to go to a German school with a host sibling (the German student and the participant may not be in the same class)
School System
Secondary education in Germany:
The "Gymnasium" or "Realschule" (high school) in Germany takes students for five years between 14 and 18.
Classes usually take place during weekday mornings. The schedule generally goes from 8:00 am until 1:00pm.
The aim of this school integration is to discover the German school system, and overall have a social integration with German teenagers. As this program is non-academic there is no pressure on the student to actively participate unless they want to.
Nacel has been refining the art of language and cultural immersion programs, domestic and international, for over 60 years. The variety and quality of our programs underpin our reputation.
PROGRAM FEE DETAILS
Applications received after the closing date are subject to availability of places. Once your completed Outbound Student Profile is received, Nacel will confirm your acceptance on the program.
Criteria For Short Term Student Language Programs
Students must satisfy the following criteria:
Aged between 14 and 18-years-old
A strong interest in learning about and participating in a European culture
A high level of motivation to make the most of the immersion program at every opportunity to really improve language skills and cultural awareness
Short Term programs — 1 year high school language study
An open and flexible attitude to integrating into a new family, school and community